Yesterday was the big 'masks off' day meaning no more masks required in classrooms and corridors (although some schools have overridden this). This week healthcare professionals have highlighted children are currently the biggest group in the country infected with Omicron.
So where does that leave schools?
We ran a poll on Twitter (we have a reasonably good following from school leaders and teachers across the UK) and the outcome was 53% of schools are running a staff absence rate between 10 to 30%, scarily 6% have a rate of over 50%!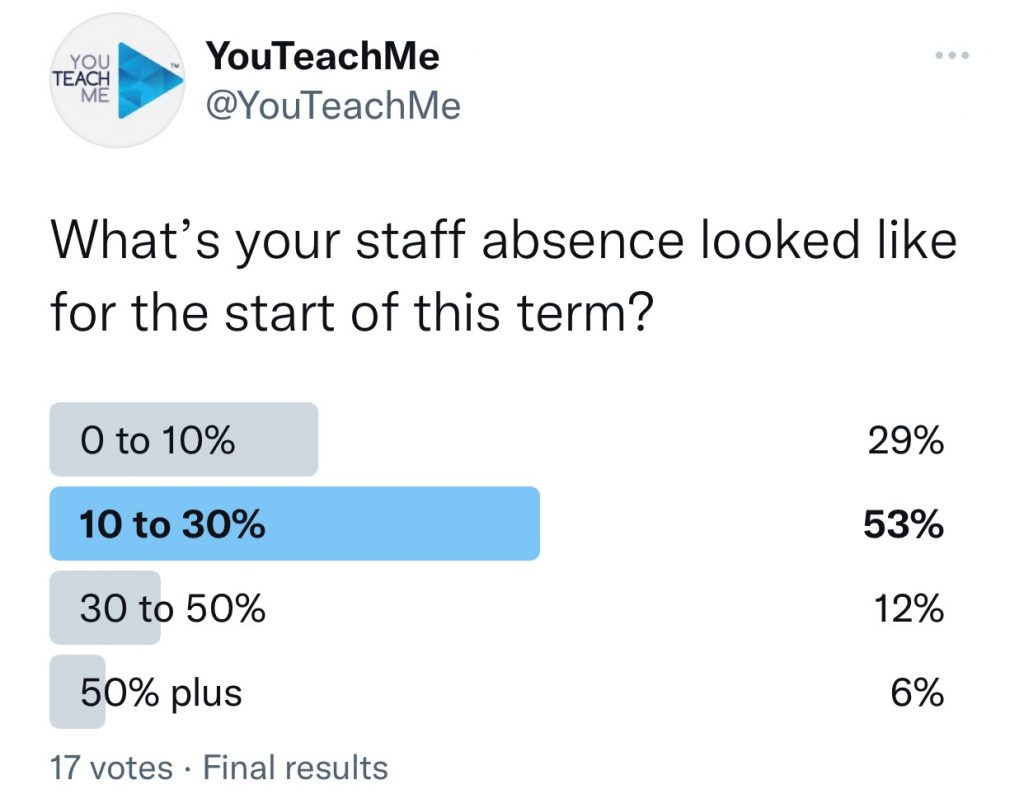 Then we asked a local infant school leader to tell us what's going on in her school
"It is difficult to hear the media celebrating the 'return to normality' when Covid continues to have a huge impact on school, not just with staff positive cases, but with absence for those staff who are not vaccinated and are required to self isolate.
Huge pressures on budgets paying for agency cover while staff are positive and/or isolating due to vaccine status just adds to the months/years of inconsistency of provision for children and uncertainty for leaders. It does not feel like we're anywhere close to normal, yet nobody is talking about it." Tamara Dale, Headteacher of Ridgeway Infant School, Derby.
There's been lots of stories of child in the hall from 3 classes being taught by one teacher. Not ideal for anyone.
Ofsted have been out and about conducting inspections on schools across the country. Not ideal either.
Pupil progress is still expected.
Ensuring your pupils are meeting the 'secure' or 'mastery' grading is still a pressure on teachers across the country.
How is that achievable?
Schools are adept at navigating oceans with big waves in boats with holes. That's before the pandemic.
Our belief at YouTeachMe is that technology should make your life easier AND achieve things thought impossible.
If we said it's POSSIBLE for every child in that hall from three classrooms to still have personalised teaching delivered to them each day, would you believe us?
Ask Paul Rose how YouTeachMe makes the impossible possible via paul@youteachme.co.uk